Learn yoga the right way with authentic yoga teachers from India
Learn yoga from home anytime anywhere. Flexible with timings with personalised classes learn at your pace, improve your flexibility strength and feel good with online yoga classes led from the experienced indian yoga teachers
Live yoga Class – Practice yoga Online with us from anywhere anytime
The classes will be through Google Meet – Live and Guided 
Private Yoga or join along with your partner or friend
If you are a group of people we can make your yoga practice personal
Choose Your time and days of the week
How it Works

Fill up the form below or contact us through whatsapp

Choose your time and days of the week

We will mail the link for the class you can just click on the link and should be great to start

Payment can be made through PayPal
Online yoga classes schedule

[ 75 Min ] 
Monday – Wednesday – Friday – 9.30 AM (IST)  – Hatha Yoga
[ 5 AM – CEST – Central European Summer Time]
---
 Tuesday  – Thursday – 10.30 AM (IST)
[ 6 AM – CEST – Central European Summer Time]
Tuesday – Hatha Yoga 
Thursday – Vinyasa Flow
---
Monday – Wednesday – Friday – 8.45 PM (IST) – Vinyasa flow Yoga
[ 4.15 PM – CEST – Central European Summer Time]
[10.15 AM – EST – Eastern Standard Time ] [United States]
---
Yoga for Beginners – Hatha Yoga 
Monday –  Wednesday –  Friday – 6 PM (IST)
[ 7.30 AM – EST – Eastern Standard Time ] [United States]
---
I am Italian origin, practicing yoga since 2012 and did my ttc in 2018. I stopped going for yoga classes when I discovered I had a tendon injured in my right shoulder, had to stop yoga for a few months and then started self practicing at home because I was scared to join a group class. I reached out to Akhilesh and he really helped me. He guided understanding where and how much I could push my self. I regained confidence, I regained strength. I can practice asana that I didn't use to practice before. Even his online yoga instructions are so detailed that I can see the alignment improving.
I haven't been practicing yoga regularly so was looking for someone who could help me get the basics right. Akhilesh has been a great teacher who makes sure the pace of every class is just right, along with correcting my poses whenever needed. He communicates well over the video sessions. The classes have enough time for poses as well as breathing exercises and cooling down as well. I would highly recommend his classes for anyone looking to get into and improve their yoga practice.
I wanted to start some workout and build a routine for myself. I also wanted to start my spiritual journey to mindfulness and self meditation. I thought Yoga is the way to go where physical exercises and pranayama are mixed well to achieve the goals. I started looking for my options. Due to lockdown Situation going online was the only option so have gone to learn from the masters themselves. So far I found Ruhyoga very calm and comfortable to put myself into yoga practice. My coach helps me not only with stretching and pranayama but also encourages to ask the questions to get the concepts right. He gets the routine which best fits your situation . And all these in the price which is unimaginable in Europe, for sure in Germany. I would highly recommend ruhyoga to any who is looking to start the holy journey of mind and body balancing through yoga.
Yoga Styles
Online Hatha Yoga

– 75 min
This class is perfect for complete beginners and intermediates it works on building strength and flexibility, it includes 

Surya-namaskara – Sun – Salutations

Asanas – Postures

Pranayama – Breathing techniques
Online Vinyasa flow Yoga

– 75 min
if you love to sweat and tone up or to loose weight then this style is the best it combines series on postures dynamically in flow Open to all, levels. 

Note – This style of yoga needs prior yoga practice experience 
Online Yoga teacher training
Indian nationals please inquire for fee
To sign up please fill up the info below we shall guide you through
Online Hatha Yoga - 12 EUR
Online Vinyasa Flow Yoga - 15 EUR - 75 Min
Our Online Yoga Teachers
Akhilesh

Akhilesh is an E-RYT 500hrs yoga instructor with decade of yoga teaching experience in the styles of hatha vinyasa Ashtanga Was introduced to yoga at the age of 17 and started to teach at corporates in Infosys, Dell, Accenture, in 2010 completed my 200hrs teacher training, 500hrs in 2012 in Bangalore and additional 250hrs in Mysore

Yoga has been a part of my life for over 10 years, and my practice has helped me grow stronger,and flexible, both on and off the mat. Yoga inspires me to live each moment more mindfully.

I will always be a student of the practice and am deeply grateful for the loving wisdom my teachers have shared with me.

In my classes, I love to combine creative sequencing, a spirit of playfulness and a bit of inspiration to help you deepen your practice. I seek to help others thrive in live by nurturing body, mind and soul with yoga, and my hope is that you step off the mat feeling refreshed, nourished and balanced.
Aswathy
I was introduced to yoga at my dance classes. My teacher used to incorporate yoga in our warm up routines. I wanted to increase my flexibility and strength to be a better dancer, so I decided to enroll in a yoga class. I remember my arms quivering while holding Downward dog in my first yoga class and now it has become a resting pose in my vinyasa practice.
In 2014, I completed my 200 hours of training, It was during this course that I realized there was so much more to yoga than the physical practice I was exposed to. During the first two years of teaching, I only paid attention to the students' physical abilities. I worked on their strength, flexibility, and stamina. My practice remained at the physical level. In 2018, I went through a challenging phase in my life. By the end of that year I had reached my limit, so I decided that It was time to make a shift. I enrolled for my 300 hrs training program. The course transformed my thoughts by giving me good content to think about, making my conversations about new concepts I had learned and creating a new drive within me. It gave me a discipline and a life philosophy. It has changed my life for the better and I feel like I am rediscovering myself because of yoga. When you experience something so beautiful why wouldn't you want to share that with the rest of the world!
I have been teaching from 2015. I have also taken an international Yoga Nidra workshop in Dubai in 2019. I teach the following types of yoga class: hatha, vinyasa, pranayama, restorative and yoga nidra.
Dushyanth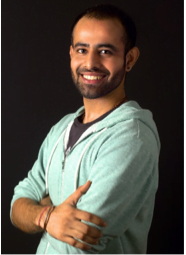 is an internationally trained Yoga teacher – RYT 200, RYT 500 hours. He completed his MBA in 2013 but soon discovered that his true calling was Yoga. He has been practicing Yoga since 2014 and teaching since 2015. He teaches various styles like Vinyasa Yoga, Hatha Yoga, Pranayama, Meditation, Alignment and Ashtanga Yoga.

He is also a certified Animal Flow Instructor which allows him to provide a unique experience with his teaching. Dushyanth comes with 3000+ hours of teaching experience.