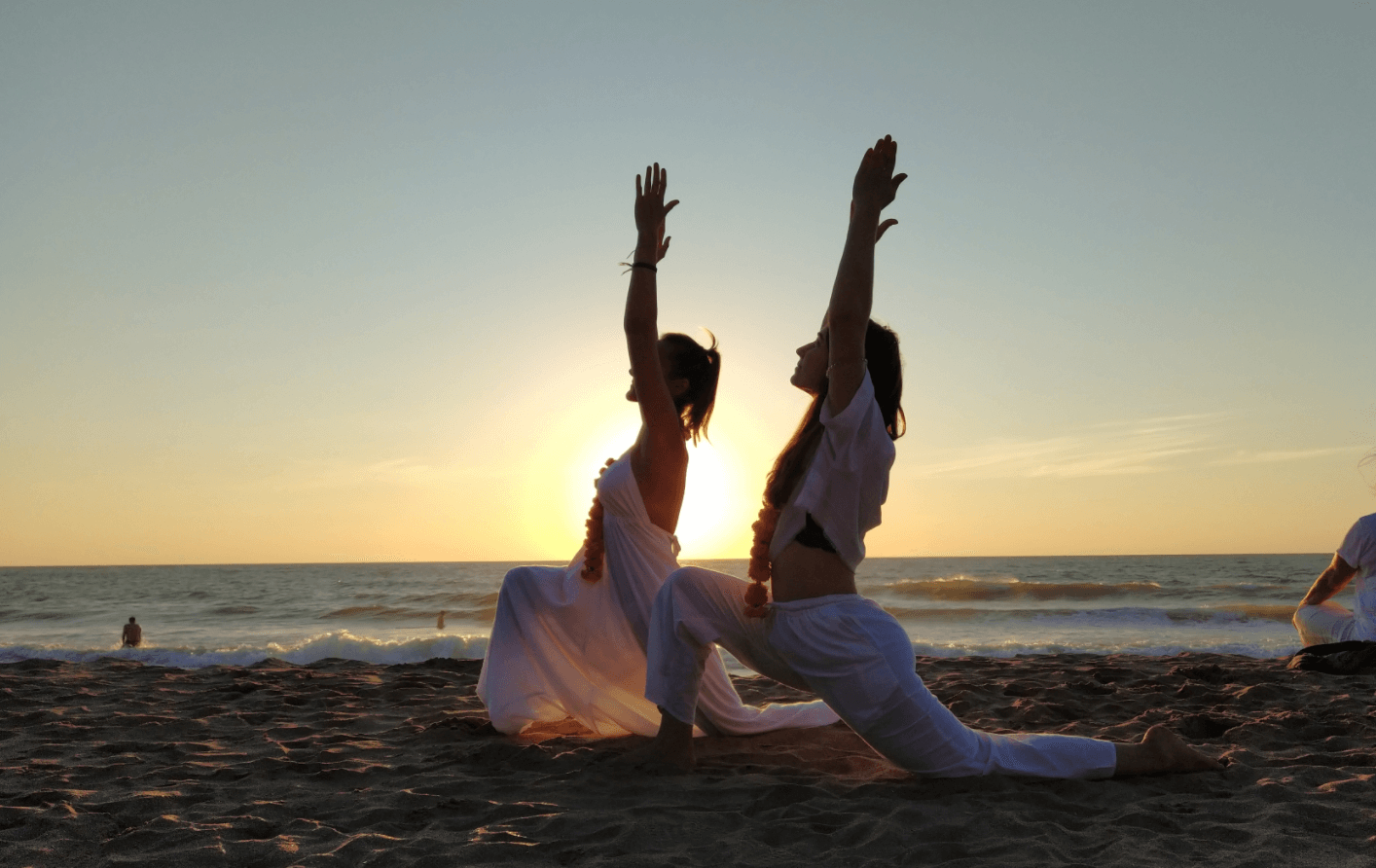 Ruh Yoga
Yoga teacher training in Goa
Ruh Yoga offers authentic 200/300 hour yoga teacher training course in Goa Agonda, for those looking to build a strong foundation in practicing and teaching yoga with safety & confidence. With the practice of yoga, you get to know yourself  better, you become more Mindful. We are Yoga Alliance Registered yoga school offering best yoga teacher training in Goa
Ruh means Soul we believe to understand your true nature you need to connect with your inner self. Yoga is a scientific tool to know your inner nature or your true self. Its through the self that we perceive all knowledge
Our yoga training is an immersion in all aspects of yoga. Students will experience how all the yogic practices can be woven together for deep insights into yoga as a living art and spiritual awakening
We preach personal approach our yoga training in goa is not more than 12 people in a batch to give enough attention to every one in the group.
Our Aim with this yoga training is to put emphasis on all aspects of Yoga equally, your Body, Heart and Mind not just its physical and therapeutic aspects – each presented in a very practical, integrated and grounded way
Yoga has been evolving and adapting to the needs of the Practitioners so is our yoga training which uses the best approach in training the students in modern way but staying true to the roots of yoga.
We are located at beautiful Agonda beach Goa, students can relax, Swim, explore, and watch the sunset. We provide a safe place for you to learn, practice and teach yoga, feel better and experience something trans-formative.
Thank you, Namaste, and we'll see you on your mat!
Yoga teacher training courses in Goa
Here is what our students say about their Experience with us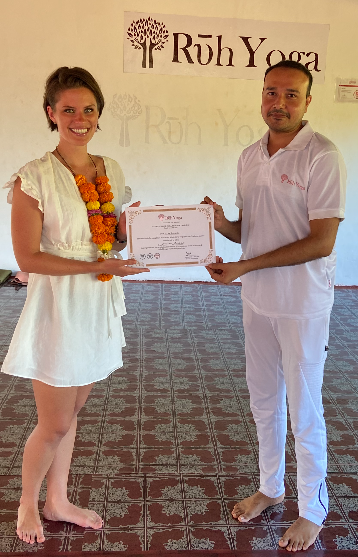 I took part in the 200 hour yoga teacher training in goa this February. It was an amazing experience.
It was my first visit to India. I was picked up from the airport and taken to the yoga school. I was warmly welcomed there. The accommodation is good, the food wonderful. There were curries in various variations. Super compatible – also for European stomachs.
The training is of very good quality. Very good mix of theory and practice. I was taught everything about philosophy and anatomy that I need to start teaching. The Yoga Shala is fantastic, located right next to the accommodations.
Akhilesh is a great teacher. It combines traditional yoga with yoga in today's world. I did the best yoga classes ever with him. I grew beyond myself through the training and never want to miss this experience again.
There were eight of us in the course. Akhilesh dealt with each individually and no question was left unanswered. A great family situation.
The place offers everything else to get a little holiday feeling. A wonderful beach, small shops and good restaurants. At no time did I feel unsafe there.
During the weeks I became a student and a teacher and was able to give my first class three days after returning to Germany.
I am grateful and will definitely return to this place❤️

I completed my 200 hour YTT at Ruh Yoga in Goa and highly recommend the course and the school. It is a life changing experience! The teachers Akhilesh and Akshay are incredible. They are extremely knowledgable about all aspects of yoga (practical and philosophy) and are genuine, patient, and the most kind hearted individuals. The yoga classes are some of the best classes I've ever attended. During the course you do hatha, vinyasa, yin and ashtanga classes. I really enjoyed the fact that the class sizes at Ruh Yoga are not too big (ours had 13 students) so you get to know the other students as well as have the opportunity for one on one time with the instructors to ask any questions and work on poses. The yoga school is located across the street from the beach and is in a small town called Agonda that has local shops and restaurants nearby, as well as some very cute cafes (google zest and mandala cafe!) I left the course with new lifelong friends and feeling stronger in all aspects – mentally, physically and emotionally. Thank you Ruh Yoga!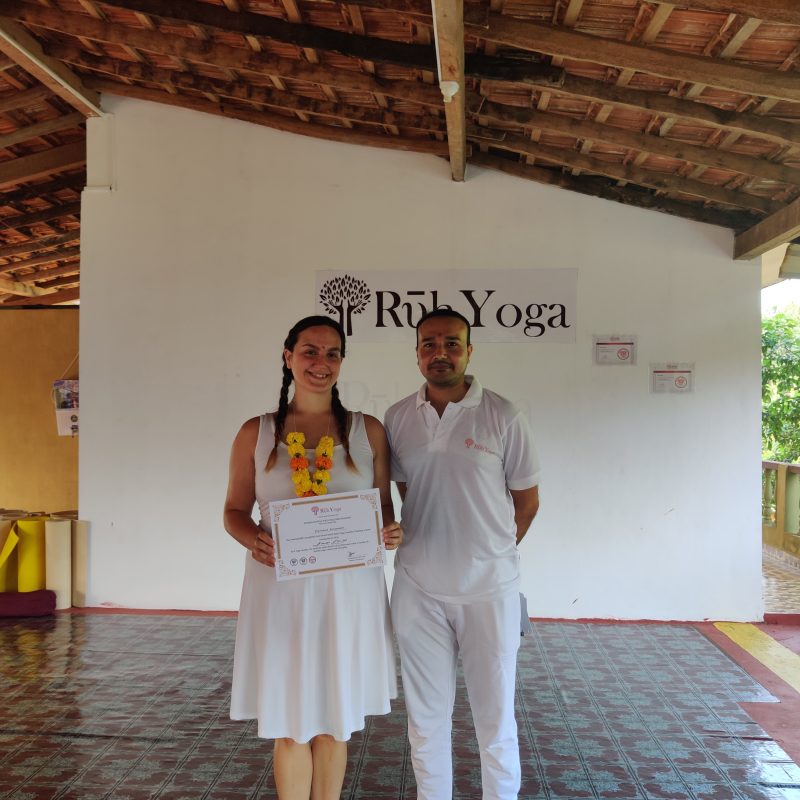 I have been practicing yoga for 15 years prior to coming to Rūh and learned something new every day… about Yoga and about myself.
I couldn't be more satisfied with the training and my experience!
The teachers are humble, inspiring, knowledgeable and easy going. The training program is robust and full of fun, hands on learning. You are given the opportunity to teach starting on day one, it's a great feeling to monitor your progress from the start to end.
The food is delicious and the beautiful beach is steps from the school. There is enough free time to self study, explore and relax.
Wishing Rūh the best of luck – thank you & namaste
FEEL FREE TO CONTACT US ANYTIME
If you have any queries regarding the courses and packages, you can contact us anytime. We will be helping you in getting the best package which suits your needs.
Explore our recent events and updates about yoga using specially tailored blog posts by our team.
Feel free to contact us anytime, we have a dedicated support team which will assist you and resolve all your queries.
Timings
Mon-Sat 05:30 – 21:30 IST
Cell No/WhatsApp
+91 7019179356