YOGA TEACHER TRAINING IN GOA
Ruh Yoga is best Yoga Teacher Training in Goa to learn Yoga and Ayurveda, We offer 200 hour yoga TTC,  300 hour yoga Certification & Yoga Retreat in South Goa Agonda for those looking to build a strong foundation in practicing and teaching yoga with safety & confidence. With the practice of yoga, you get to know yourself  better, you become more Mindful.
We are Yoga Alliance Multi Style Registered Yoga school in Goa Agonda, Our yoga Course is an immersion in all aspects of yoga Body, Heart and Mind not just its physical and therapeutic aspects, each presented in a very practical, integrated and grounded way for deep insights into yoga as a living art and spiritual awakening
Our Approach
Our Yoga Teacher Training in Goa is not more than 12 people in a batch to give enough attention to every one in the group. Yoga is a purely a personal experience, Our body is our home, regular practice of yoga Asana (physical) Pranayama (subtle energy/Breath) and Dhyana (Meditation) we can bring in total harmony physically and mentally. We preach personal approach
Yoga has been evolving and adapting to the needs of the Practitioners so is our yoga training which uses the best approach in training the students in modern way but staying true to the roots of yoga.
We are located just 1 min away from beautiful Agonda beach Goa, students can relax, Swim, explore, and watch the sunset. We provide a safe place for you to learn, practice and teach yoga, feel better and experience something trans-formative.
Ruh means Soul we believe to understand your true nature you need to connect with your inner self. Yoga is a scientific tool to know your inner nature or your true self. Its through the self that we perceive all knowledge
Yoga TTC in Goa
Our yoga teacher training course in Goa is designed by Akhilesh who have been practicing and teaching yoga for more than 15+ years, 350+ graduates have successfully completed their yoga teacher training at our yoga centre in Goa
Ruh yoga was founded on two principles; that the practice of Yoga and its applied sciences must be practical and approachable to anyone from any walk of life, and that if you can breathe, you can practice Yoga. Ruh is an yoga institute for quality and reliable yoga teacher certification for both offline and online
Though yoga is an ancient science it has been nurturing our Body, Mind and Spirit, and continues to be the most effective proven methods for overall health and balance
Our Vision
To make Yoga a practical and approachable experience to all who seek balance.
Why Ruh Yoga
Our 200 hour and 300 hour yoga ttc courses in Goa are designed by our expert teachers who have been practicing and teaching for 16+ yrs. Our yoga teacher training is for all who want to learn and pursue yoga and is accessible for all yoga enthusiast from Homemakers, working professionals, artists, dancers of all ages, even if it's just for your own understanding or making it your personal practice not necessarily to become a yoga teacher. Time is something which is un-fundable, The time and effort you invest will be fruitful with the yoga knowledge and good health
Yoga tradition in India
Traditional home of yoga and yogis for many millennia
Long unbroken lineage of yoga schools
Holistic approach to yoga
Yoga Courses we Offer
Glimpses of our Yoga TTC in Goa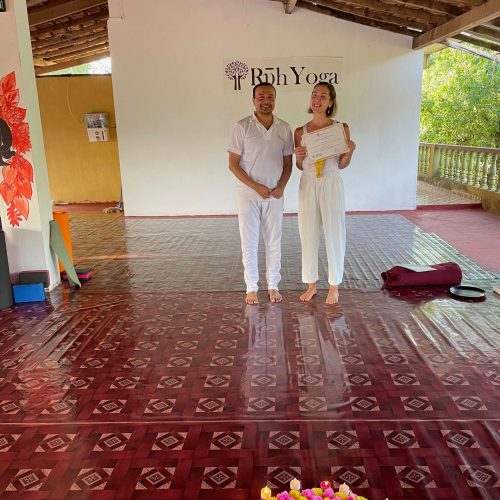 Doing the 200h YTT in Goa at Ruh Yoga was such a great experience. I learned so much in those 4 weeks. Very personal and small class. Lovely yoga shala with a stunnding view ond palm trees. Akhilesh and Aishwaraya are great and inspiring teachers. Can highly recommend it. Thank you so much Akhi and Aish for this experience.
If you're thinking about doing a YTT in Goa, go to Rūh Yoga!
I did the 200hr teacher training and my time there was simply incredible! Akhilesh and Aishwarya are very kind, caring and knowledgeable teachers and I can't imagine better people to learn from. From day one I felt very comfortable and cared for in every way. My yoga practice improved so much during the training and I never thought I could feel so confident teaching yoga like I did at the end of the course. The surroundings are also very nice and not so crowded like other places nearby. I frequently watched the sunset on the beach.
I highly recommend it!
Best place for yoga in Agonda! I did my 200 hour YTT in Goa at Ruh Yoga in January 2023. I enjoyed learning in a small group (we were 5), Akhi is a very good and patient teacher and the yoga space is pleasant even on a hot day. 100% recommend!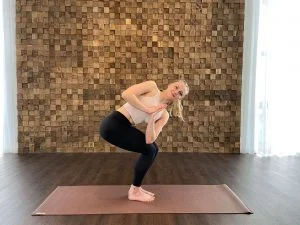 Professionelle und kompakte (online) Yoga Ausbildung. 200 Stunden. Yoga Alliance zertifiziert!
Ich habe die Ausbildung gerade online gemacht und kann sie jedem empfehlen, der/die/* schon länger mit dem Gedanken spielt eine hochwertige Yogaausbildung zu machen. Wann wenn nicht jetzt!
Mein Lehrer heißt Akhilesh und ist ein ganz besonderer Lehrer. Man merkt, dass er Yoga wirklich lebt; es fließt durch seine DNA. Genau danach habe ich gesucht.
Danke, für diese Zeit Akhi!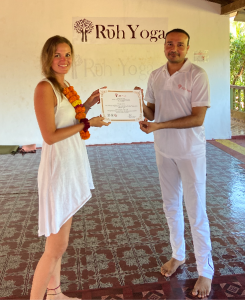 I did my 200 hours yoga teacher training in Goa at Ruh yoga and I can honestly say it was such an amazing time and the best decision ever. Akhi is an awesome teacher, with so much knowledge, patience, humour and and and. His classes are very very good and he focusses a lot on alignment, after that you feel ready to teach. We were just 8 people in the group, which is a big advantage of that training, he really know your problems and works with you to improve. Philosophy, anatomy, breathing, meditation, cleansing, all was well guided and it never got boring 🙂 Also in a small group like this you become like a little family what makes the whole training even more special. Food is soooo good and accomodiation is nice too.
I would always again book it. I definitely had the best yoga classes here. Actually no words can really describe how great it was, loved it so much. Thank you Akhi and the whole group, it was more than a pleasure!
Who ever reads that….book your yoga training!!!
I did my 200h Yoga TTC in Goa at Ruh Yoga and it was one of the best decisions ever!
Akshay and Akilesh are incredible and Akilesh's classes are probably the best I've ever attended so far 🙂
The environment is very nice as well – the beach is just across the street and the atmosphere in the coffeshops close by is very relaxed and cozy 🙂
..so if you're ready to start your journey – don't hesitate, just go ahead – you won't regret it! 😊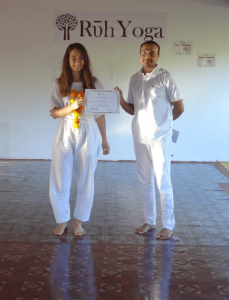 I did my 200h yoga teacher training in Goa at Ruh Yoga and it was the perfect place to do it. The teachers are amazing and were able to share their great knowledge in a very understandable and modern way. I highly appreciated the small group (we were only 7 people) which really allowed me to improve my yoga practice. The location, lodging and food were perfect and it felt like a second home. I highly recommend to everyone to do the YTT at Ruh Yoga in beautiful Agonda.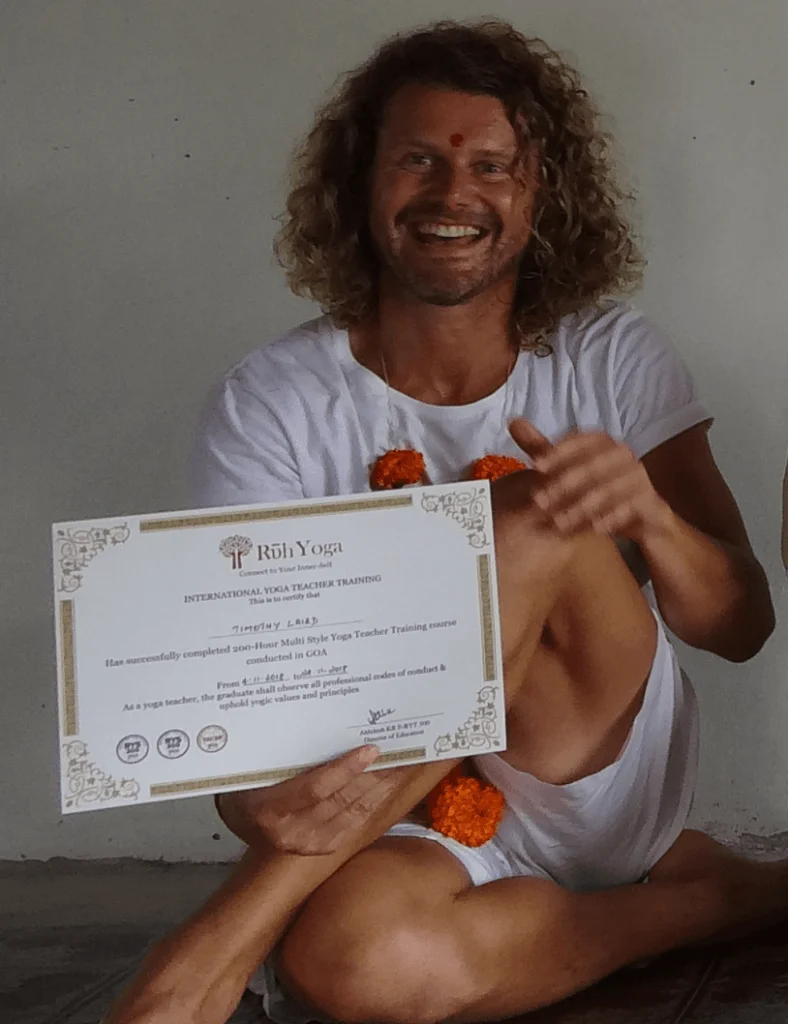 I completed my 200hr YTT training in Goa at Ruh Yoga, and I highly recommend this school if you want to do yoga training in Goa. The teaching was excellent, the food great, and the experience unforgettable. There are bigger schools in Goa with very large classes, which may suit some people, but if you want a more personal experience with a focus on your individual education and yoga practice, Ruh Yoga would be a very good option. I made some lifelong friends and we all loved it.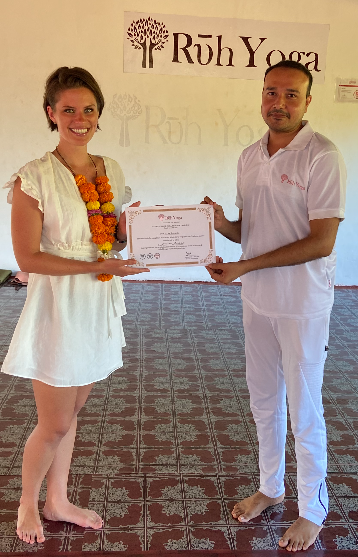 I took part in the 200 hour yoga teacher training in goa this February. It was an amazing experience.
It was my first visit to India. I was picked up from the airport and taken to the yoga school. I was warmly welcomed there. The accommodation is good, the food wonderful. There were curries in various variations. Super compatible – also for European stomachs.
The training is of very good quality. Very good mix of theory and practice. I was taught everything about philosophy and anatomy that I need to start teaching. The Yoga Shala is fantastic, located right next to the accommodations.
Akhilesh is a great teacher. It combines traditional yoga with yoga in today's world. I did the best yoga classes ever with him. I grew beyond myself through the training and never want to miss this experience again.
There were eight of us in the course. Akhilesh dealt with each individually and no question was left unanswered. A great family situation.
The place offers everything else to get a little holiday feeling. A wonderful beach, small shops and good restaurants. At no time did I feel unsafe there.
During the weeks I became a student and a teacher and was able to give my first class three days after returning to Germany.
I am grateful and will definitely return to this place❤️
FEEL FREE TO CONTACT US ANYTIME
If you have any queries regarding the yoga teacher training courses and packages, you can contact us anytime. We will help you in getting the best package which suits your needs.
Explore our recent events and updates about yoga using specially tailored blog posts by our team.
Feel free to contact us anytime, we have a dedicated support team which will assist you and resolve all your queries.
Our Address
#48/c, Agonda
Canacona, Goa
403702
India
Timings
Mon-Sat 05:30 – 21:30 IST
Cell No/WhatsApp
+91 7019179356