200 hour yoga teacher training in Goa
A solid foundation to teach yoga, inspire others and deepen your own personal practice.
The focus of this 200hr yoga training is to provide students with applied knowledge of anatomy, alignment and assists with a deep focus on yoga philosophy.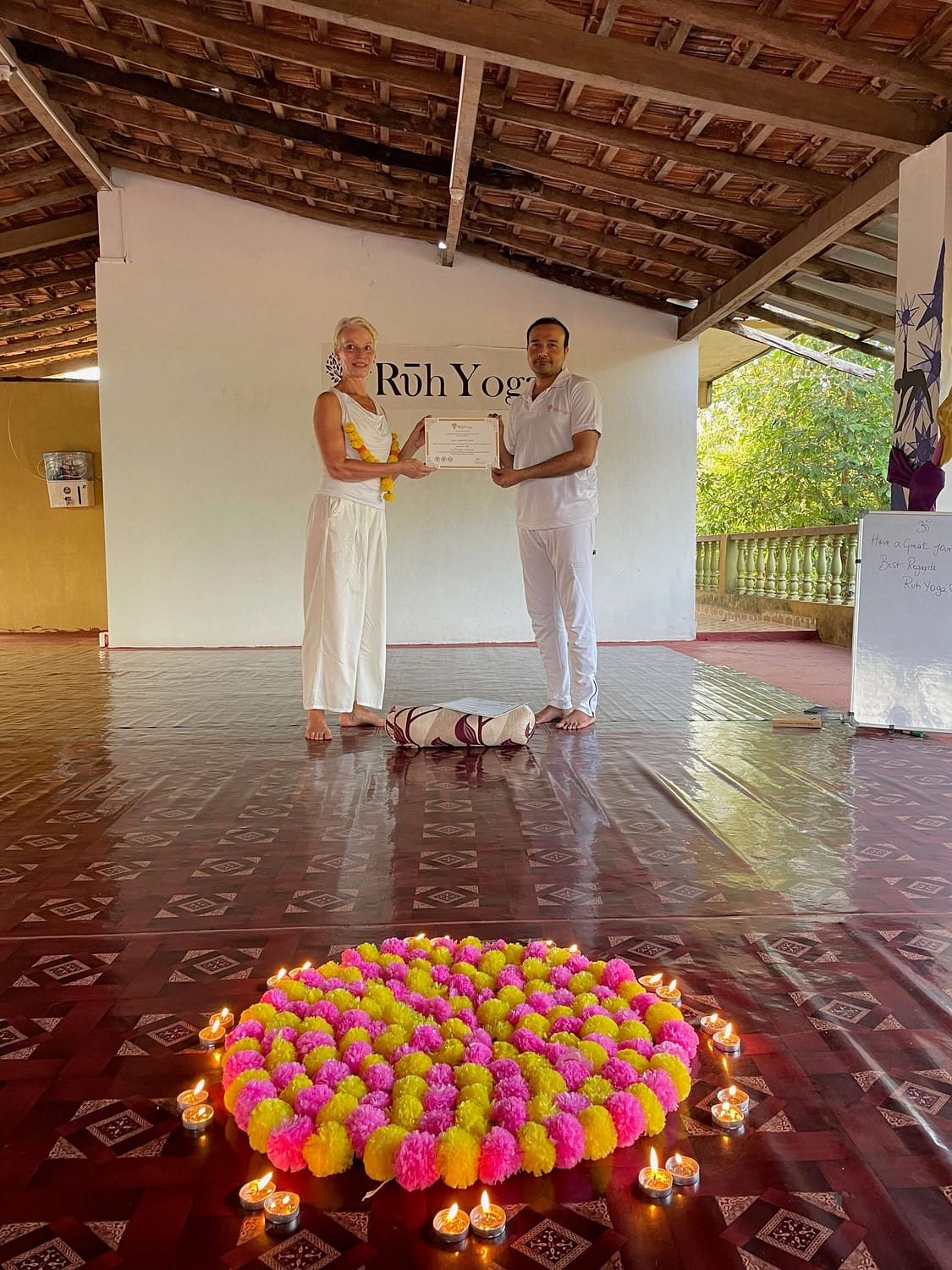 It was a really good decision electing Ruh Yoga for the teacher training. The place, the small class, the accommodation, the food, all was perfect. But the best was the education program. Akhilesh is a wonderful teacher: challenging and patiently helpful, friendly and professional, competent and open for all questions. I spent a very good time with Ruh Yoga and I am very thankful for this.

Best place for yoga in Agonda! I did my 200 hour YTT at Ruh Yoga in January 2023. I enjoyed learning in a small group (we were 5), Akhi is a very good and patient teacher and the yoga space is pleasant even on a hot day. 100% recommend!

I am so grateful for all the lessons you gave me, I am very happy with my decision to join your course, it was  challenging but with you help I could achieve and understand all the knowledge I needed to this new journey in the life of yoga. You are very good teacher.

Ruh Yoga is a small, simple yoga school in Agonda with a good location near the beach, shopping facilities, a yoga shala with a view of the green jungle and a very good teacher.
The lessons in small groups are very informal and intensive, I find the togetherness and the resulting energy indescribably beautiful. The quality of the training is very high and profound.
I came to India with expectations of getting to know a different kind of yoga than we are used to in Europe. Experience yoga at its roots, so to speak. I wanted to feel the spirit and above all the training should touch my heart so that I can experience and feel yoga. I am a yoga teacher with heart and soul, so I also want to convey yoga to my students authentically and with heart.
For me, the teacher is crucial. Since I already knew Akhi from the online classes, I really wanted to get to know him and learn his way of teaching, because I think he has everything a good yoga teacher should have. Akhi conveys the basics of yoga with a deep yogic calm and a very authentic, loving manner using all available means, such as powerpoint, whiteboard, script and a lot of practice. For me a great timetable, very varied and well thought out. The days are coordinated in the week, so that the individual hours are also very harmonious, just like the individual weeks, these also build on each other. Akhi always has an open ear for his students and responds individually to each one. The decision to go to Akhi was exactly right, because he not only conveys the philosophy and contents of the yoga practice, he also expresses this in his whole being and behavior. What touched my yoga heart very much and I took it with me as an experienced yoga teacher.
If you are looking for a yoga journey to yourself and like it small, loving and authentic, Ruh Yoga is the place for you!
Thank you for all

This is a professional teacher who trains to become a professional teacher! No false promises, immense knowledge and straight classe. And don"t forget: Agonda has awesome beach 2min away from school!

The yoga teacher training is excellent at Ruh Yoga. I learned everything I needed to be a complete yoga teacher with traditional values. The accommodation is located next to the beach in a peaceful location in Goa. The food is excellent Akhi is a wonderful teacher. I will highly recommend this school to my friends.

Very nice and intensive 200 hours teacher training with Akhi! Awesome experience. Would recommend it highly to interested people 😊🙌

Doing the 200h YTT at Ruh Yoga was such a great experience. I learned so much in those 4 weeks. Very personal and small class. Lovely yoga Shala with a stunning view ond palm trees. Akhilesh and Aishwaraya are great and inspiring teachers. Can highly recommend it. Thank you so much Akhi for this experience.

If you're thinking about doing a YTT, go to Rūh Yoga!
I did the 200hr teacher training and my time there was simply incredible! Akhilesh and Aishwarya are very kind, caring and knowledgeable teachers and I can't imagine better people to learn from. From day one I felt very comfortable and cared for in every way. My yoga practice improved so much during the training and I never thought I could feel so confident teaching yoga like I did at the end of the course. The surroundings are also very nice and not so crowded like other places nearby. I frequently watched the sunset on the beach.
I highly recommend it!

I met Akhilish and Aishwaraya as lovely, powerful, emphatic people. They built us a safe place. The days flew bye and I learned more than I expected (anatomy, philosophie, treaching methodology etc.) and a lot about myself. The accomandation is a property were also other people stay and the Shala is on the roof top with an amazing few. The meals are prepared from the Restaurant next door. Most of the time it is typical indian food. It is just next to the beach, were you have a spectacular sunset. I would defenitely come back.

The experience for my 200 YTT at Ruhyoga was absolutely amazing. Akhi is a great teacher, he is very knowledgeable and creates a wonderful calming environment. Akhi taught us in philosophy and anatomy and his classes were always fun, even when it got hard because there is so much to learn in such a short time. His humor spiced up the classes!
Everyone here made us feel welcome from the first moment on. The food is just the most delicious thing I have ever eaten and they took so good care of us.
The concept of small classes, we were a group of nine students, was perfect in my point of view because we had the chance to get to know each other very well and had a very trustful environment like that.
Agonda is a sweet little village with a stunning beach and the school is just a one minute walk from there.
If you are thinking about taking a course here, do it! I can only recommend it.

Awesome experience! Very beautiful shala with a nice view, good food 3 times a day and the best yoga teacher! I love this place, I feel like home here


I just finished my 300h yoga teacher training with Ruh Yoga and I was super happy that I have chosen this place.
The school is 1 minute walking distance from the beach and surrounded by palmtrees. Such a beautiful and peaceful place! Akhi, the yogateacher is awesome. I love his way of teaching. He is very patient, calm and humorous at the same time and has a lot of knowledge about yoga philosophy, anatomy and teaching. You can clearly see his passion for his job.
If you are looking for a yoga teacher school which is personal and not commercial, Ruh Yoga is the place to go. I can highly recommend Akhi's little paradise :-).

I just finished my 200hrs yoga teacher training at Ruh Yoga.
I truely can see it couldn't have been better than this 25 days experience. Akhi is an amazing teacher, who takes care of all students in and outside the classes. As there are only smaller groups, it's possible to work on an individual level for every student and also to bond between the students.
It was a great mix between Hatha and Vinyasa style, plus once a week Ashtanga and Yin yoga – a pure bliss for me 🙂
The accommodation is combined with the school, food is mainly curries – but very delicious and possible to adjust in case you are on a specific diet.
The Shala is an open space on the roof of the building and a beautiful and peaceful place to practice. The beach is just opposite the school and also some smaller shops, nice restaurants or massage places are around.
The training provided me a profound basis to start teaching yoga and gave me a great mix of understanding better the practice, anatomy and philosophy of yoga.
I only can recommend the school to either go for a teacher's training or drop in classes!
Thank you Ruh Yoga & the people around it for making this a once in lifetime experience! 🙏

I took part in the 200 hour yoga teacher training this February. It was an amazing experience.
It was my first visit to India. I was picked up from the airport and taken to the yoga school. I was warmly welcomed there. The accommodation is good, the food wonderful. There were curries in various variations. Super compatible – also for European stomachs.
The training is of very good quality. Very good mix of theory and practice. I was taught everything about philosophy and anatomy that I need to start teaching. The Yoga Shala is fantastic, located right next to the accommodations.
Akhilesh is a great teacher. It combines traditional yoga with yoga in today's world. I did the best yoga classes ever with him. I grew beyond myself through the training and never want to miss this experience again.
There were eight of us in the course. Akhilesh dealt with each individually and no question was left unanswered. A great family situation.
The place offers everything else to get a little holiday feeling. A wonderful beach, small shops and good restaurants. At no time did I feel unsafe there.
During the weeks I became a student and a teacher and was able to give my first class three days after returning to Germany.
I am grateful and will definitely return to this place❤️

I did my 200 hours training at Ruh yoga and would highly recommend it. Akhi is a wonderful teacher, who gets to know each student well as he only has smaller groups. This allows your to really progress your practice during the course as he is always willing to give you personal guidance in and out of class. I loved the mix of Hatha and Vinyasa, as well as Wednesday yin which was a godsend. I felt it was a really rounded course and I came away with a much deeper understanding of yoga as a practice (and the different types) as well as the philosophy of yoga. The accommodation is good, not fancy but no complaints and the food is delicious – it's all curry but they are excellent and very authentic. As well as learning a lot I couldn't have had more fun along the way – if you're considering doing your 200 hours, do it here, you won't regret it!

Just arrived home from a 25day yoga teacher training course. Words can't express just how wonderful it was. A truly amazing experience, which was enhanced by our incredibly knowledgable teacher Akhi. He was encouraging, supportive and kind. So many other schools were huge, far too many students and impersonal. If you want to have an experience of a lifetime look no further than Ruh Yoga. Everything was 100% just perfect

Couldn't have been a better TTC! I'm so happy I accidentally chose this one! Turned out to be the perfect group with a perfect teacher. <3

I did my 200 hours yoga teacher training at rūh yoga and I can honestly say it was such an amazing time and the best decision ever. Akhi is an awesome teacher, with so much knowledge, patience, humour and and and. His classes are very very good and he focusses a lot on alignment, after that you feel ready to teach. We were just 8 people in the group, which is a big advantage of that training, he really know your problems and works with you to improve. Philosophy, anatomy, breathing, meditation, cleansing, all was well guided and it never got boring 🙂 Also in a small group like this you become like a little family what makes the whole training even more special. Food is soooo good and accomodiation is nice too.
I would always again book it. I definitely had the best yoga classes here. Actually no words can really describe how great it was, loved it so much. Thank you Akhi and the whole group, it was more than a pleasure!
Who ever reads that….book your yoga training!!!

I had no plans to become a yoga instructor, but wanted to introduce myself in the whole world of yoga. I attended a 200 hour yoga teacher training course and I can wholeheartedly recommend others to do the same even if the exam is not wanted.
It has been so rewarding to immerse myself in philosophy and Akhilesh is a very inspiring and knowledgeable teacher that exhibit close contact and ability to meet every single person wherever he is. He is a very competent teacher who manages to make the theory alive, relevant and interesting. In my work as a Psychotherapist, philosophy gave an extra dimension to the psychology and mindset of the whole human being.
I came with no experience with the practical part of yoga, but Akhilesh has introduced me to this one very well. Thanks to Akhi for this journey.
The surroundings are amazing and the whole place oozes with yoga energy. The city offers the most amazing cafes with atmosphere and vegan food in the very best category. The quiet and beautiful beach is 25 meters away and is a good place for the lunch break. The yoga room is open and beautiful and there is the most beautiful view of the jungle and is meditative just listening to the jungle sounds.

I have just completed my 200hrTT here in Agonda & it was FANTASTIC! Amazing teaching and coaching by Aki, lots of support and always available for advice & help, location couldn't be better and food was superb ! I have learnt sooo much & in fact, we enjoyed it so much, all my group are hoping to come back next year to do more Yoga training with Aki @ Ruh Yoga
Thankyou for an amazing experience x

My husband and I we joined "ruh yoga" for 10 days and we really loved it. We just finished our 200 hours yoga teacher training in another school, but wanted to do more yoga and we are happy we ended up at Ruh yoga.
The yoga classes in the morning and afternoon at the rooftop shala with the view to beautiful green landscape makes you smiling. We also could join the anatomy and philosophy classes which was great and we learned some new things as well (every school teach differently). Akhi is a very good and professional teacher, listen to every question or problems of his students. You have options of nice accommodations, it's a small group of yoga students and a very peaceful atmosphere. Agonda beach is very quite, with nice restaurants and friendly people. I would definitely come again and I can highly recommend this yoga school!!

200 hour Yoga Teacher training course at Ruh yoga in Agonda in the most amazing part of South Goa. Yoga Trainer Akhilesh is a very competent, life wise and skilled teacher. Although I have 15 years of experience as a yoga teacher, this course has given me an incredible amount at all levels. The surroundings are amazing. I lived in a small cabin, 50 meters from the beach. The beach and water are fantastic with very few tourists. Cozy cafes and restaurants have the most amazing vegan food. All teaching takes place on a covered terrace overlooking the jungle and with all the jungle sounds. It was important as we spent many hours at that place every day. The long lunch break was very valuable and much needed. We were able to swim in the sea and relax after lunch before the next lesson. I give Ruh Yoga top marks in everything, it has been a unique experience

I did my 200h yoga teacher training at Ruh Yoga and it was the perfect place to do it. The teachers are amazing and were able to share their great knowledge in a very understandable and modern way. I highly appreciated the small group (we were only 7 people) which really allowed me to improve my yoga practice. The location, lodging and food were perfect and it felt like a second home. I highly recommend to everyone to do the YTT at Ruh Yoga in beautiful Agonda.

I'm very happy with my 200 h teacher training course at Ruh yoga. The owner and teachers are from India and have an understanding of western mindset. The classes are reliable and varied. Food and lodging perfect.

I've been here for my 200h teacher training. Amazing experience, we were a small group of 7 people and I learned a lot, the teachers were well prepared and helped me to improve my practice. Thank you Ruh Yoga, hope to see you again!

I had a really good experience at ruh yoga, Its genuine and authentic ❤️
This experience will be life changing, Been to India many times but this trip become a spiritual journey 🙏

Did my 200hr training here at Ruh Yoga and it was amazing. With a small group, good food and accommodation. Akhilesh is great, a true yogi inside out. The location is perfect as the beautiful Agonda beach is just on the other side of the road. Would highly recommend it to anyone.

Top Place, delicious food, great teachers it felt like home. The people made a special experience out of it. Hope you guys decide for this place it's definitely worth it

I have been practicing yoga for 15 years prior to coming to Rūh and learned something new every day… about Yoga and about myself.
I couldn't be more satisfied with the training and my experience!
The teachers are humble, inspiring, knowledgeable and easy going. The training program is robust and full of fun, hands on learning. You are given the opportunity to teach starting on day one, it's a great feeling to monitor your progress from the start to end.
The food is delicious and the beautiful beach is steps from the school. There is enough free time to self study, explore and relax.
Wishing Rūh the best of luck – thank you & namaste 🙏🏼💙

I completed my 200 hour YTT at Ruh Yoga and highly recommend the course and the school. It is a life changing experience! The teachers Akhilesh and Akshay are incredible. They are extremely knowledgable about all aspects of yoga (practical and philosophy) and are genuine, patient, and the most kind hearted individuals. The yoga classes are some of the best classes I've ever attended. During the course you do hatha, vinyasa, yin and ashtanga classes. I really enjoyed the fact that the class sizes at Ruh Yoga are not too big (ours had 13 students) so you get to know the other students as well as have the opportunity for one on one time with the instructors to ask any questions and work on poses. The yoga school is located across the street from the beach and is in a small town called Agonda that has local shops and restaurants nearby, as well as some very cute cafes (google zest and mandala cafe!) I left the course with new lifelong friends and feeling stronger in all aspects – mentally, physically and emotionally. Thank you Ruh Yoga!

This experience was incredible. So much more than I was expecting. The food was great, accommodation is underneath the rooftop yoga shala and 1 minute walk from the beach. Akilesh and Askhay work so hard to with us to ensure that our time at Ruh Yoga was magical and that we walk away from this experience as all of the knowledge to be a brilliant yoga teacher. Thank you so much!

Die Yogalehrerausbildung bei Ruhyoga zählt zu meinen besten Entscheidungen! Tolle Gegend, schöner Yogaraum, persönliche Atmosphäre und vor allem, Akhilesh und Akhsey sind die besten Lehrer, die man sich nur wünschen kann. Ich würde mich jederzeit wieder für Ruhyoga entscheiden!!
Mit herzlichen Grüßen aus Österreich, Regina

I did my 200h Yoga TTC at Ruh Yoga and it was one of the best decisions ever!
Akshay and Akilesh are incredible and Akilesh's classes are probably the best I've ever attended so far 🙂
The environment is very nice as well – the beach is just across the street and the atmosphere in the coffee shops close by is very relaxed and cozy 🙂 ..so if you're ready to start your journey – don't hesitate, just go ahead – you won't regret it! 😊

I loved my stay with Ruh yoga 🧘🏻‍ I joined the 200 hours YTT. Akhilesh and Akshay has been so lovely and they both are doing a really good job teaching us all the different subjects we have to learn. The vibe at Ruh yoga is so nice. I really recommend this place 🤸🏿‍♀️🌞

It was my the best decision I have ever done in my life to come to Ruhyoga, Goa for 200 hours yttc, teachers training course! Our teachers Akhi and Akshay are so amazing, I realy love them, they are so nice, allways peaceful and smiling! We practised 3 times a day, we started also with teaching from the first day, it was so incredible! Anatomy and yoga philosophy were interesting, I will miss them so much!
Agonda is beautiful place to practise, just 2 min walking to the beach! And sunset here is like in paradise!
I realy would recomend this place and school Ruhyoga for everybody, who want to find new way of lifestyle with yoga, it's safe and beautiful! With love forever, Darina

Ruh Yoga is THE place to learn yoga ! The teachers are fully involved to share all their knowledge. The location, close to the beach, is peaceful. I really enjoyed my yttc there and I highly recommend this place !!

Great teachers, very friendly and helpful! Would definitely recommend!

Ruh yoga was the perfect school for me. I find spirituality and philosophy of life.the quality of the class was amazing and help me to improve my level.
I met beautiful people and have the best experience because of the positive energy of the teacher.

I had the most amazing experience with Ruh Yoga for my 200HYTT 🙏🏻❤️ Would definitely recommend this place for others.

I love vinyasa online classes. It's very nice to practice yoga at home with an indian teacher. Vinyasa classes are very interesting. It makes me travel during one hour.

I am very grateful to Akhilesh and Ruh Yoga for introducing me to Yoga during these challenging times when keeping our physical fitness and emotional well-being is of paramount importance. Akhilesh takes my classes virtually, however, his teaching techniques are extremely detailed, spontaneous, and intuitive. I look forward to his classes first thing in the morning and Yoga practice under his guidance prepares me well for my day. Thank you Akhilesh and Ruh Yoga for doing such a wonderful job!!! –

I've been taking online yoga classes from Ruh Yoga since January 2021. My main purpose to add yoga to my regular workout routine was to improve agility, mindfulness and overall toning. I've had a very positive experience learning from Akhilesh over the last four months. I see a marked improvement in my flexibility and reducing the stiffness in my movements. I've been very satisfied with the classes and would definitely recommend learning from the Ruh Yoga team

-The group is maximum of 12 people, we were 8 in a group, the teachers could assist us and answering to our questions easier
-The yoga shala is surrounded by palm trees, quiet, the best place to do yoga practice and meditations during sunrise and sunset
-The rooms are clean, they are just right next to the yoga shala and the restaurant. The staff is very kind and helpful.
-The food is very tasty, indian dishes for lunch and dinner and fruit salad, porridge/pancakes/omlett for breakfast with coffee/tea
-The beach is only 2 minutes walk, I could enjoy the beach between the classes : in our morning break and afternoon break as well.
-I found Agonda beach is the best compare to other beaches in Goa for YTTC, it is less crowded and I wasn't bothered by sellers when I was studying or practicing at the beach
-The course is generally well organised from the airport pickup until the drop off, I felt warm welcomed by Akhilesh and he found solutions to our extra requests as well.

I would like to share with every one my experience of studying at Ruh Yoga school in GOA India.
I was not disappointed by the place and surrounding areas – beautiful nature, palm trees, one of the best beaches just 2 minutes walk from school, birds, horses, chipmunks and even monkeys sometimes! The teacher Akhilesh is very polite and shares with his students all the knowledge he has about yoga and life. I practicing yoga for 10 years and still there was so much more to learn during my stay and study in this place !
I recommend Ruh Yoga school to everyone who wants to learn about or deepen the knowledge about yoga and spent quality time in India far from hustle and bustle of cities and megapolis area.
Miss the place and food already ❤️☀️?

300 YTT that I have finished here was a great experiance.
It was a great balance between deepening the philosphy of yoga, anatomy of the human body, breaking down the asanas step by step, practicing the teaching, and the intanse yoga practice. What I liked the most is that we were a small group, and there was a lot of room for questions and individual work, that's why in the end I didn't felt that I'm coming out of the YTT factory.
Breakfasts are great, you have a lot of choises.

I had a fantastic time at Ruh Yoga and would highly recommend the teacher training course. I did the 200 hour course and the teachers were very patient, and highly experienced. I would definitely consider returning to Ruh Yoga, in the near future.
Thanks for everything!
Terezie 🙂

I have done my 200Hrs teacher training yoga at Ruh Yoga. I had an incredible experience through the course and I enjoyed every moment. Big thank you to Akhilesh and Katrina for their passion when sharing their knowledge with the students. Great course if you want to became a yoga teacher and expand your curiosity in yoga philosophy and anatomy
Great location just 1 min from one of the best beach I have been in Goa.
I would definitely recommend this place to anyone.

I could not have asked for a better 200hr teacher training program. Ruh Yoga with Akhilesh and Katarina was an amazing experience. Their knowledge, commitment and patience in their practical and theory teachings was superior. I enjoyed the smaller class and personalized attention. I was able to develop my yoga practice but more importantly a better awareness of myself. I am forever grateful for this experience and I know when I return home my family will benefit from my time here as well. Agonda and Ruh Yoga is a special place to be!

I would like to share with every one my experience of studying at Ruh Yoga school in GOA India.
I was not disappointed by the place and surrounding areas – beautiful nature, palm trees, one of the best beaches just 2 minutes walk from school, birds, horses, chipmunks and even monkeys sometimes! The teacher Akhilesh is very polite and shares with his students all the knowledge he has about yoga and life. I practicing yoga for 10 years and still there was so much more to learn during my stay and study in this place !
I recommend Ruh Yoga school to everyone who wants to learn about or deepen the knowledge about yoga and spent quality time in India far from hustle and bustle of cities and megapolis area.
Miss the place and food already ❤️☀️?

I did my 200 hours YTTC at Ruh
Yoga and it was everything I needed. The teachers, Akhilesh and Katrina, are awesome! I loved the Indian philosophy classes, they are so interesting! I learned so many things from this course, I would definitely recommend. Also, don't limit yourself just because of the language; I'm a native french speaker and I still was able to follow the course and I made friends that were in the same situation! The teachers are understanding about it. Don't worry. Also, Agonda beach has such a cool vibe and the school is at 1 min walk from there! So if you're looking for new knowledge, connection with yourself by leaving for comfort zone, lots of fun and a lifetime experience; Ruh Yoga is for you!

If you want to have a more than positive experience and are looking for a school with authentic Indian and modern western approaches, then this is the place to go. Professionally and humanly outstanding quality I associate from now with the name "Rüh-Yoga". The great surroundings with one of the most beautiful beaches complete the picture.


I recently finished my 200hr yttc at Rūh Yoga. For anyone who seeks deeper knowledge in to the field of yoga; I highly recommend this center. In Agonda, Goa, near a beautiful beach -often enjoyed for daily walks- this center takes place in peaceful surroundings.
The teachers brings forth a high understanding and skills regarding philosophical and physical aspects of yoga. The groupe size is small -max. 12 people- for the benefit of having more time with every student attending.
So yogis and yoginis -this is the place to go.
Namaste

I was impressed of our teachers knowledge , professionalism and attention to all students , even if we were on different levels of practice.

I was completed my YTT 200 hours in Ruh Yoga.
I recommend a lot to people who would like personal attention. The group was not big so it felt like everyone has his place to understand to the fullest every subject.
The teaching was professional and all the experience was interesting and positive.
The food is really good and the place looks really beautiful.

I just completed my 200hr teacher training at Ruh Yoga. It has been an amazing experience, i have something positive to say about every single aspect of the course. It is well organised, with a good combination between theory and practical, lead by two knowledgeable, professional and fun instructors: Akhilesh and Katrina. The environment was friendly and the fact that few students were in the course was positive, as attention was given to all of us. Moreover, the huts in which students are accommodated are cozy and fully equipped. Last but not least Agonda is beautiful and peaceful, just the perfect place where to practice yoga.

The best taught Yoga course in Agonda Goa, India! Just completed my 200hr YTT with Ruh Yoga. I found the course content and materials well structured and organised. Both teachers Akhilesh and Katerina are excellent in conveying their knowledge and passion within their expertises, this showed as classes were very successful. The theory topics were also well organised and very clearly presented. The uniqueness of Ruh yoga is that every student has individual attention if needed, due to a limit of students being enrolled.
Excellent accommodation and facilities, great variety of food ! I very much enjoyed this course and would highly recommend it to future students.

I absolutely enjoyed doing my yoga teacher training at Ruh Yoga and would definately recommend the studio to everyone!!! Not just that you get a profound training you also feel at home at Ruh Yoga. Big plus as well: the beautiful Agonda beach is just 3 minutes walk away and not crowded. It was the best experience and I would go back any time! Thank you so much!

I completed my 200hr YTT training at Ruh Yoga, and I highly recommend this school if you want to do yoga training in Goa. The teaching was excellent, the food great, and the experience unforgettable. There are bigger schools in Goa with very large classes, which may suit some people, but if you want a more personal experience with a focus on your individual education and yoga practice, Ruh Yoga would be a very good option. I made some lifelong friends and we all loved it.

The best place if you want to do yoga teacher training program. Excellent beach, not crowded, very concentrated program, nice people i highly recommend?

Best decision ever !!! My teaching journey of 200YYT Goa could not be better. Will start with instructors that are just mind blowing! They persist a vast theoretical and practical knowledge and experience. Initially I was worried as having a herniated disc but after first few classes I got full confidence. Definitely NOT a Yoga Teaching Factory but an Individual approach to each student. They will listen, observe and study you and then come up with the best advice that fits your health, flexibility, body structure etc. Accommodation: you feel like at home!!! Very clean and tidy, stuff very friendly and helpful and food delicious. Full body, mind and soul detox Ah, not to forget about the beach which is just 2 steps away. What can be more!!! Keep it up guys!!!!

It's been a week since my ? graduation and I have to say I'm missing a lot. I had a memorable time in Ruh Yoga because Akhilesh and Katrina are two amazing teachers and also wonderful people. Anyone who has the opportunity to do the 200 hours of yoga teacher training with them as I did should not miss it and will never regret it. I have learned so much, seen from a yogic point of view and also for myself personally. For that I would like to thank the two ❤️
Keep it up!!! You are doing great !!

I really enjoyed the teachers training a lot. I had a chance to really dive into the practical and the theoretical part of yoga, resulting in a strong foundation, from which I now feel comfortable to share with other people. The teachers are very supportive and welcoming of every individuals journey with yoga, which is very important when undergoing an intense program of learning. Due to the highly qualified teachers and their passion for yoga made me realize that there is still so much to learn. The group was really great, we were laughing a lot and I will miss them dearly.

My first visit to India. I was picked up from the airport and greeted warmly. Since my vacation is limited even a course was opened for me, so I can complete my education. Thank you so much! Food and accommodation are great and the breaks on the beach are wonderful. The training is very detailed and very easy to understand. Recommended. Thank you again Akhilesh for your commitment.

My training with Ruh Yoga will always be an incredibly precious chapter of my life. The in-depth and genuine nature of the program allowed me to develop an awareness of myself and my impact on others in a profound way. My understanding of yoga was transformative thanks to the thorough and rigorous yoga teaching classes and daily morning and evening yoga classes. I left feeling strong and with a solid foundation to begin my yoga teaching journey. I am forever grateful to have participated in such a wonderful program.
FEEL FREE TO CONTACT US ANYTIME
If you have any queries regarding the courses and packages, you can contact us anytime. We will be helping you in getting the best package which suits your needs.
Explore our recent events and updates about yoga using specially tailored blog posts by our team.
Feel free to contact us anytime, we have a dedicated support team which will assist you and resolve all your queries.
Timings
Mon-Sat 05:30 – 21:30 IST
Cell No/WhatsApp
+91 7019179356